Jump to recipe
Broccoli and cheddar frittata

This delicious, cheesy frittata is loaded with broccoli and so easy to make. Meant to share, make it for a weekend breakfast or brunch. 
Ingredients
11 large eggs
1 Tbsp. Olive Oil
1 Onion (small, sliced thin)
2 cups broccoli (cooked)
Pinch Kosher Salt
Pinch Black Pepper
1/2 cup Reduced Fat Cheddar Cheese
Instructions
1. Preheat oven to 400 degrees, position rack in middle of oven.
2. Whisk eggs in large bowl.
3. Heat oil in 10 inch oven safe skillet over medium heat until simmering.
4. Add onion and cook until begins to soften, about 4 minutes.
5. Add broccoli and cook until warmed through, about 2 minutes. Season with salt and pepper.
6. Pour eggs over vegetables and cook, gently lifting and pushing cooked edges toward center allowing eggs to space. About 4 minutes.
7. Sprinkle cheddar and transfer pan to oven. Bake until frittata is golden brown and puffed up, about 12-15 minutes (it will be slightly soft in the center).
8. Transfer to cutting board and cut into 8 wedges. Serve & enjoy.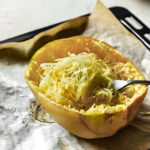 Try this delicious low-carb, gluten-free, simple dish with garlic, olive oil and red pepper flakes.
Read More »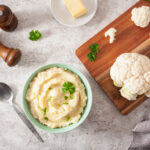 This cauliflower puree is creamy and comforting, and it just happens to taste a lot like mashed potatoes. It also has the benefit of being easier to make, healthier and lower in carbs.
Read More »