Jump to recipe
Oven Baked Egg Rolls

Our delicious and healthy oven-baked egg rolls are filled with a fragrant mixture of chicken and vegetables and baked until crispy. You'd never know they aren't deep fried!
Ingredients
16 (1lb.) Egg Roll Wrappers
1 lb. Chicken (cooked - seasoned with salt and pepper)
4.5 cups Cabbage, shredded
4 Green Onions, finely chopped
1/2 cup Water Chestnuts, chopped
1 large Garlic Clove, minced (approx. 1.5 tsp)
2 tsp. Ginger (fresh, grated)
1 Tbsp. Soy Sauce
1 Tbsp. Rice Vinegar
Pepper to taste
2-3 tsp. Oil
Instructions
1. Preheat oven to 425 degrees.
2. In large mixing bowl, combine all ingredients (except wrappers and oil). Toss to combine.
3. Trace each wrapper with water on your finger tip. Place 1/4 cup of chicken mixture towards the edge of wrapper, leave about 1 inch of wrapper on each side. Tuck and roll tightly. Put seam side down on parchment paper covered baking sheet.
4. Continue with remaining wrappers and chicken mixture.
5. Brush each roll with oil.
6. Bake for 20 minutes.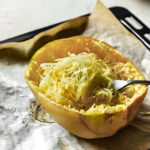 Try this delicious low-carb, gluten-free, simple dish with garlic, olive oil and red pepper flakes.
Read More »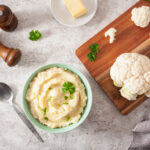 This cauliflower puree is creamy and comforting, and it just happens to taste a lot like mashed potatoes. It also has the benefit of being easier to make, healthier and lower in carbs.
Read More »