Jump to recipe
Green Beans with Tomato

A simple 
side
 dish, our sautéed 
green beans
 with 
tomatoes
 are a great way to add veggies to your menu. So fresh and full of flavor!
Ingredients
14 oz. Green Beans
1 tablespoon olive oil
1 teaspoon garlic chopped
1 whole tomato peeled, deseeded, and diced
Salt and pepper to taste
Instructions
1. Wash, trim and cut beans into 2 inch sections.
2. Cook in boiling water until "crisp tender", about 10 minutes.
3. Heat oil skillet.
4. Sauté garlic on medium heat, about 30 seconds.
5. Add beans and cook about 2 minutes.
6. Add tomato and cook another 3 minutes.
7. Serve all together and Enjoy!
Tender ground meat and rice are wrapped up in a boiled cabbage leaf, then baked in the oven with a flavor-packed tomato sauce. This easy recipe is a healthy, gluten-free, and lower-carb comfort food dish you're sure to love!
Read More »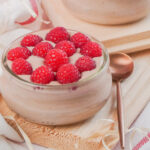 Creamy and sweet — and it can fit into your weight loss plan. What's not to love?
Read More »