Jump to recipe
NuYou Summer-time Creamsicle

Beat the heat while burning fat and gaining energy. This summer time favorite can be used as a shake or frozen into a popsicle. It is bursting with a refreshing orange flavor and antioxidants. Jam-packed full of protein and thermogenic that aid your body in burning excess fat.

Ingredients
2 packages NuYou Very Vanilla Nutritional Supplement
1 packet Orange Biofix
1 can Diet Lemon Lime Soda
1/2 cup cold water
Ice cubes (enough to thicken)
Instructions
1. Mix all ingredients in a blender until smooth or desired consistency
2. Pour into chilled glass, or pour into popsicle trays and freeze.
3. Enjoy
Notes
Counts as 1 NuYou Nutritional Supplement while on NuYou Weight Loss or Maintenance Program. Counts as 1 Thermogenic Weight Loss Enhancer while on NuYou Weight Loss or Maintenance Program.

Tender ground meat and rice are wrapped up in a boiled cabbage leaf, then baked in the oven with a flavor-packed tomato sauce. This easy recipe is a healthy, gluten-free, and lower-carb comfort food dish you're sure to love!
Read More »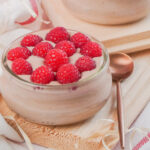 Creamy and sweet — and it can fit into your weight loss plan. What's not to love?
Read More »