Jump to recipe
Lemon Braised Broccoli

Broccoli is a great go-to side dish that brings color and nutrition to the table. But just steaming or roasting it can get a little boring after a while. Our lemon braised broccoli takes it up a notch by sautéing in garlic and spices, and finishing it with a squeeze of fresh lemon juice.

Ingredients
1 tbsp olive oil
1 yellow onion, medium cut into 1 inch wedges
2 garlic cloves smashed and peeled
1 tsp Coriander
1/4 tsp Red Pepper Flakes
1 bunch Broccoli cut into florets, stalks peeled and thinly sliced
4 wide strips lemon zest plus wedges for serving
Salt & Pepper
Instructions
1. In large skillet, heat oil over medium high heat.
2. Add onion and sauté until golden, about 6 minutes.
3. Add garlic, coriander and red pepper, cook about 30 seconds.
4. Add broccoli, lemon zest and 2 cups water, boil.
5. Reduce heat and cover for about 8 minutes. Salt & pepper to taste.
6. Serve with lemon wedges and enjoy.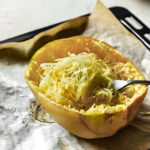 Try this delicious low-carb, gluten-free, simple dish with garlic, olive oil and red pepper flakes.
Read More »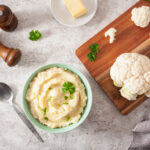 This cauliflower puree is creamy and comforting, and it just happens to taste a lot like mashed potatoes. It also has the benefit of being easier to make, healthier and lower in carbs.
Read More »