Jump to recipe
NuYou Egg Roll Bowl

Our Egg Roll in a Bowl is a one-pan dinner made in 15-20 minutes and is packed with protein and flavor. Made with either ground pork, this recipe tastes just like an Asian egg roll but without the egg roll wrapper.

Ingredients
16 oz. ground Pork
6 Tbsp. low sodium soy sauce
1 small onion
4 cloves garlic
1 Tbsp. fresh ginger (grated)
5 cups napa or green cabbage
1 cup carrots (shredded)
4 cups bok choy (finely chopped)
5 oz. shitake mushrooms
1 Tbsp. rice wine vinegar or dry sherry
1 tsp. toasted sesame oil
1 mediu green onion (sliced for garnish)
Instructions
1. Set a large skillet over medium-high heat.
2. Add pork and 2 tablespoons soy sauce, breaking up pork as it browns, about 3 minutes.
3. Add onion, garlic and ginger. Cook and stir until veggies are soft.
4. Add cabbage, Bok Choy, carrots, mushrooms.
5. Pour in remaining soy sauce & rice vinegar (or sherry) and sesame oil.
6. Cook 3 – 4 minutes.
7. Serve with sliced green onions as garnish.
Notes
Please be advised that substitutions and/or ingredients may need to be eliminated in order to remain compliant to your individual weight loss plan. See your center counselor if you require assistance for recommendations on substitutions.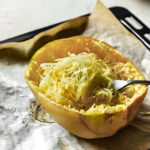 Try this delicious low-carb, gluten-free, simple dish with garlic, olive oil and red pepper flakes.
Read More »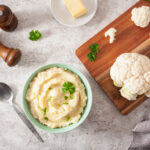 This cauliflower puree is creamy and comforting, and it just happens to taste a lot like mashed potatoes. It also has the benefit of being easier to make, healthier and lower in carbs.
Read More »